If live music is what you're looking for this summer you're in luck! There are live shows throughout the valley that are sure to impress.
Hot Summer Nights is back for another year of great FREE live shows starting on June 19th. On Tuesdays throughout the summer, see shows ranging from rock to country to bluegrass to funk and beyond in the gorgeous setting of the Ford Amphitheater in Vail!
If you like a more classical setting, be sure to check out Bravo! Vail featuring performances from Academy of St. Martin in the Fields, the Dallas Symphony Orchestra, the Philadelphia Orchestra, and the New York Philharmonic starting June 21st. Tickets are required for most Bravo! Vail events.
Avon is presenting the Cover Rock Fest, June 22nd-23rd, for another year of great musical tributes, this year featuring the best American Rock and Roll bands! Featuring cover performances of Simon and Garfunkel, Stevie Ray Vaughn, Tom Petty, the Eagles and more!
In Eagle, go to the Eagle Town Park on Thursday at 6:30pm, starting on June 28th, for the Showdown Town Free Concert Series. Bring your lawn chairs and a picnic and enjoy the music and kids activities for fun for the whole family!
There are miles of trails to explore in and around the Vail Valley. Here's three great options to check out the next time you're up for a mountain adventure.
Overlook Trail – Trailhead: Base of Beaver Creek Mountain – 3.5 miles (one way). Find this trail at the base of Beaver Creek near the Centennial Express Lift to hike your way into aspen and pine trees. The trail is a 2,000-foot uphill challenge with some switchbacks that help moderate some of the ascent. Toward the top, hikers are rewarded with views of the ski resort and peaks in the Sawatch Range. Once you arrive Spruce Saddle Lodge, hikers can stop for a bite to eat or a drink. The hike back down is optional — you can save your knees and some time by jumping in a gondola car on the Centennial Express Chairlift (dog-friendly on the way down) for a free ride back to the village (weather permitting). Make sure the chairlift is open that day before counting on a ride down.
Piney River Falls – Trailhead: Lower Piney River Trailhead at Piney River Ranch – 6 miles roundtrip. Head out of the valley for one of the most beautiful destinations in the state that can be accessed by a car (with high clearance). Drive up to Piney Lake, located 11 miles out of town from Red Sandstone Road, and park at the trailhead to start out on this six-mile trip to the falls and back. The trail stays along Piney Lake, then heads into an open meadow and up into the forest. At every fork, stay right, and once you reach an overlook point looking back at the valley and the lake, you're about 15 minutes from the falls.
Whitney Lake – Trailhead: South of Minturn, about five miles up Homestake Road #703 – 5 miles roundtrip. From the small parking area on the left across the road from the trailhead, the trail will take you almost three miles uphill, gaining nearly 2,000 feet in elevation. It winds up steeply through aspen and conifer groves, offering views of the Sawatch range. Cross Whitney Creek on four large rocks, and then onward for about three-quarters of a mile to the lake. Whitney Peak rises up from the north lake shore to an elevation of 13,271 ft.

Farmers Markets mean Summer has arrived! Get great food, fresh fruits and veggies, and have plenty of fun throughout the Valley's farmers markets.
The classic Minturn Market starts off the summer farmers market season on June 9th,  runs every Saturday through September 8th and is held from 9am until 2pm rain or shine! Located in the charming Downtown Minturn, the market features items from delicious breakfast and lunch gourmet foods, gifts, clothing, jewelry, handmade crafts, home goods, and more!
On Sundays, starting June 17th and running through October 7th from 10am – 3:30pm, visit the Vail Farmer's Market and Art Show. In Vail you will find the finest quality of local fruits, vegetables, and meats, as well as local artists selling unique work, live music, breakfast and lunch foods, and plenty of fun!
If down valley is your neighborhood, check out the Gypsum Down Valley Farmers Market on Fridays, starting June 15th through September 14th from 3:30-7:30pm. Enjoy fresh produce, local grass fed beef, wild caught seafood, local honey, eggs, flowers and once per month live music!
Stay in shape this summer with FREE & Outdoor yoga!
Starting June 2nd, The Avon Rec Center offers Free yoga on Saturday mornings starting at 9am on the Performance Pavilion Terrace overlooking the lake at Nottingham Park.
Minturn is also hosting free yoga on Saturdays, starting June 20th and running through August 29th. Classes will be held at the Little Beach Stage from 9:30 – 10:30am.
Beaver Creek is hosting free yoga on Wednesdays, starting June 27th and running through August 15, from 4 – 5 pm. Stop by the base of the mountain for a complimentary outdoor yoga class with the beautiful scenery as your backdrop.
If you're in Eagle, bring your friends to Yoga in the Park, a weekly donation-based class at the Eagle Town Park from 9:30-10:45am presented by Yoga Off Broadway and Eagle Outside. Yoga in the Park starts June 2 and runs through August 26th.
Call the babysitter for some Adults Only fun this summer! 
Come outside on June 16th, for another event in the Endurance Race Series, to run the beautiful trails around Eagle for a Half marathon and 10K course. Once you see the sights and work up an appetite, cross the finish line to find entertainment, food, and beer for you to enjoy and refuel.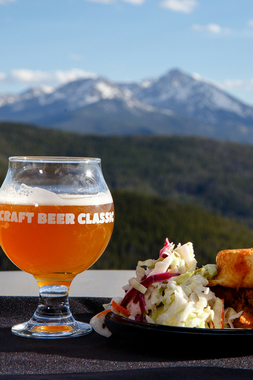 For a more relaxed day, stop by the Vail Craft Beer Classicon June 14th – 17th. Pairing beer with adventure, the Vail Craft Beer Classic is Colorado's highest altitude beer tasting with 4 days of events – from paired beer dinners, to mountain biking with a brewer, and hundreds of craft beers to sample from right in Vail Village. If you want to go to the Toast of Vail (June 16th), use code BERKSHIRE for 15% off your tickets!
Can't get enough beer? Don't miss the Vail Valley Brew Fest at Avon on Saturday June 30th at Nottingham Park! Drink unlimited samples of some of the best brews in the high country and across Colorado, with great live music, breathtaking mountain views, and it all benefits an amazing local non-profit!
Bring the whole family to these events in June for fun and games that will sure to entertain the whole family!
If cowboys, horses, and roping are more your style be sure to catch the Beaver Creek Rodeo series, starting on June 21st. This weekly event is held every Thursday throughout the summer!
The Go Pro Mountain Games in Vail on June 7th – 10th catch all the events from rafting, paddleboarding, and kayaking, to Dock Dogs, and disc competitions, to art and photography, you will be sure to find something for all interests in Vail.
Does your family enjoy the arts and classic Disney movies? Then check out the Porchlight Players perform Disney's Alice in Wonderland Jr. on June 22nd in Gypsum! Featuring songs from Disney's animated movie, Disney's Alice in Wonderland Jr, is a fast-paced take on the classic tale.
Or make your way to Beaver Creek for the FREE Movie's Under the Stars series,held on Tuesdays starting on June 3rd. This year's line up includes Field of Dreams, Moana, Cars 3, Incredibles, Jumanji (1995), and Coco. For a more retro feel, catch a flick at the Minturn Drive-In Theater! Drive, or walk in with your camp chairs, and see classic movies like the Goonies (June 29), Back to the Future (July 6), The Shining (July 7) and more!
Get, or keep, in shape as a family with the Tutu 2K in Avon on June 17th at Nottingham Park. Tutus aren't required, but they are encouraged, as are all your best costumes!
On June 18th, bring the kids (5-8yrs) and their bikes to Nottingham Park for theSummer Scurry Junior Duathalon. In this, new FREE event, kids will race around the playground and field on foot and then on bike to compete for their personal best time of the summer.
Round out a fun June with the yearly classic, Eagle Flight Days June 22nd – 24th. The annual event takes place at the Eagle Town Park and will include the Lions Club Pancake Breakfast, Parade, horseshoe tournament, carnival, and more!

There are a number of different Independence Day activities for you to enjoy!
Start off on July 3rd in Avon for the Alpine Bank Salute to the USA. Starting at 5pm, take part in the family-friendly festivities going on throughout the park face painters, fire jugglers, stilt walkers, balloon sculptors, magicians, and so much more! Bring your blanket and enjoy festival style food favorites from fresh squeezed lemonade and funnel cakes to mini-donuts and roasted ears of corn. Relax and get ready for the most amazing fireworks display the State of Colorado has to offer – 10,000 shells explode in a pyrotechnic extravaganza of dazzling color and sound.
On July 4th in Vail, participate in Vail America Days, a true summer celebration featuring exceptional entertainment including Vail's celebrated 4th of July parade and fireworks, complemented by all that Vail summer has to offer on and off the mountain.
Or on July 4th in Beaver Creek enjoy two free outdoor family activity areas including multiple slides, games and bounce houses from noon to 5pm at Stars, Stripes and Slides and face painting, arts & crafts and carnival games at the Plaza Kid's Zone at theBeaver Creek Independence Day Celebration.
If you'd rather stay down valley, stop by Lundgren Theater for the Gypsum 4th of July Celebration. The evening kicks off at 7pm with live music from Under A Blood Red Sky: Tribute to U2 along with free hot dogs and ice cream. Then when it gets dark look up and enjoy a fireworks show synchronized to music! Wherever you end up, you will be sure to enjoy the festivities!